Get The Skills To Be A Cosmetology Professional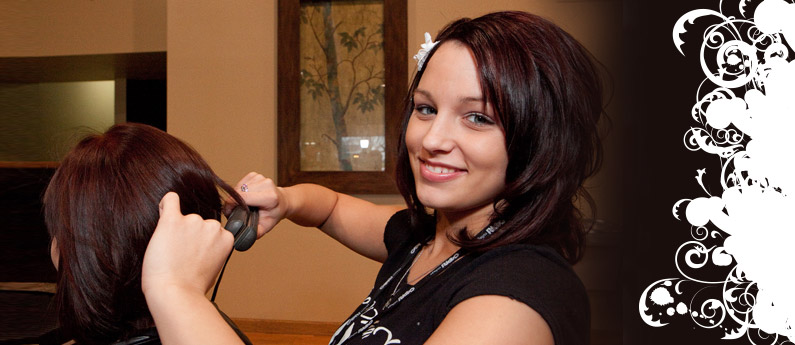 62 Week Hands-On Beauty Career Training Program
Cosmetologists use their creativity, personality and sense of style to connect with others and help people feel great about the way they look.
If you're a stylish, social person interested in hair, makeup, nails and other beauty services, you owe it to yourself to take a couple of minutes to explore your potential in cosmetology.
Becoming a Qualified Cosmetology Professional
The Cosmetology Program from Capri College provides the hands-on training, practical experience and industry support it takes to pursue a successful beauty career.
As a Capri student, you'll learn to unlock your creativity and have fun while building the skills to achieve your beauty career goals. Classes are active and led by knowledgeable beauty professionals with years of experience working in the industry. You'll get the up-to-date beauty education it takes to compete and make your mark in this business. Skills include:
Haircutting for Men & Women
Razor Cutting & Clippers
Thermal Styling
Perming/Waves
Hair Color
Highlight/Foils
Makeup
Manicures & Pedicures
Artificial Nails
Skin Care/Facials
Hair Removal (Face, Arms, Legs)
Advanced Braiding Concepts
Ethnic Styling
Hair Extensions
And More!
Plus, in addition to high-end beauty education, you'll get the practical business and marketing training it takes to turn your talent and passion for cosmetology into a successful, sustainable career.
This program can be completed in 62 weeks.
Career Opportunities
As a Capri cosmetology graduate, you're prepared to pursue work in a wide variety of interesting positions, including:
Hair Stylist
Hair Color Specialist
Nail Artist/Manicurist
Skin Care/Waxing Professional
Makeup Artist
Salon/Spa Manager
Salon or Day Spa Owner
Cosmetology School Instructor
Cosmetology School Director of Education
Manufacturer's Sales Representative
Beauty Product Educator/Distributor
Platform Artist/Educator
Photo & Movie Stylist
Image Consultant
Beauty Magazine Writer/Edit
And More!
"The time spend at Capri gave me the technical, leadership and business skills to achieve my ultimate goal of opening my own salon."
– Ashley R. Benson, Capri College Graduate

Real World Learning – Not Your Average Classroom
You don't learn cosmetology just from textbooks – you learn it on the salon floor. As a student in this program you'll have the opportunity to work with real clients in our on-campus salon.
Under the guidance of experienced cosmetology educators you'll provide clients with the same types of services offered in high-end salons or spas. You'll also have the opportunity to go on fun field trips to local salons and spas plus an all-expense paid trip to the International Hair Show in Chicago! See first-hand what the best in the business are up to.
You'll enter the professional world with confidence, fully prepared to build your client base, after gaining so much direct, real-world experience before you graduate.
Part of the Family – The Capri Difference
We are a family owned business. Once you start your journey with us, you become a Capri family member. You'll never feel like a number, will never get lost in the crowd. We care about your education, experience, your life and your future success!
As a Capri student you start and move through each unit with the same class. Everyone's at the same level and learning together. You'll have the chance to really bond and create meaningful relationships, friendships and potential professional partnerships.
Get the Support You Need to Launch a Successful Career
At Capri, we know cosmetology training is about more than a certificate to hang on the wall – it's about getting a career you love. We're dedicated to supporting you throughout your career. Experienced Career Services professionals are happy to offer support and help you pursue employment opportunities.
Capri College has long-standing relationships with area salon and spa employers. We listen to them for ways we can improve, to keep our education current. Our community involvement and long-standing relationships allow us to assist you with as many employment options as possible.
Financial Aid is available for those who qualify.
Is a Creative Career in Cosmetology Right for You?
Get More Information…
If you're interested in learning more about careers in the beauty industry, and exploring whether cosmetology is right for you, fill out the form on this page to receive more information.
To speak to a friendly and knowledgeable Capri College Admissions Representative, call the campus nearest you.